Optimizing Content for SEO
In most cases, the primary goal of digital content optimization is to be visible in search engines. Here are 10 fundamental steps you can take to improve your visibility and enhance your digital presence.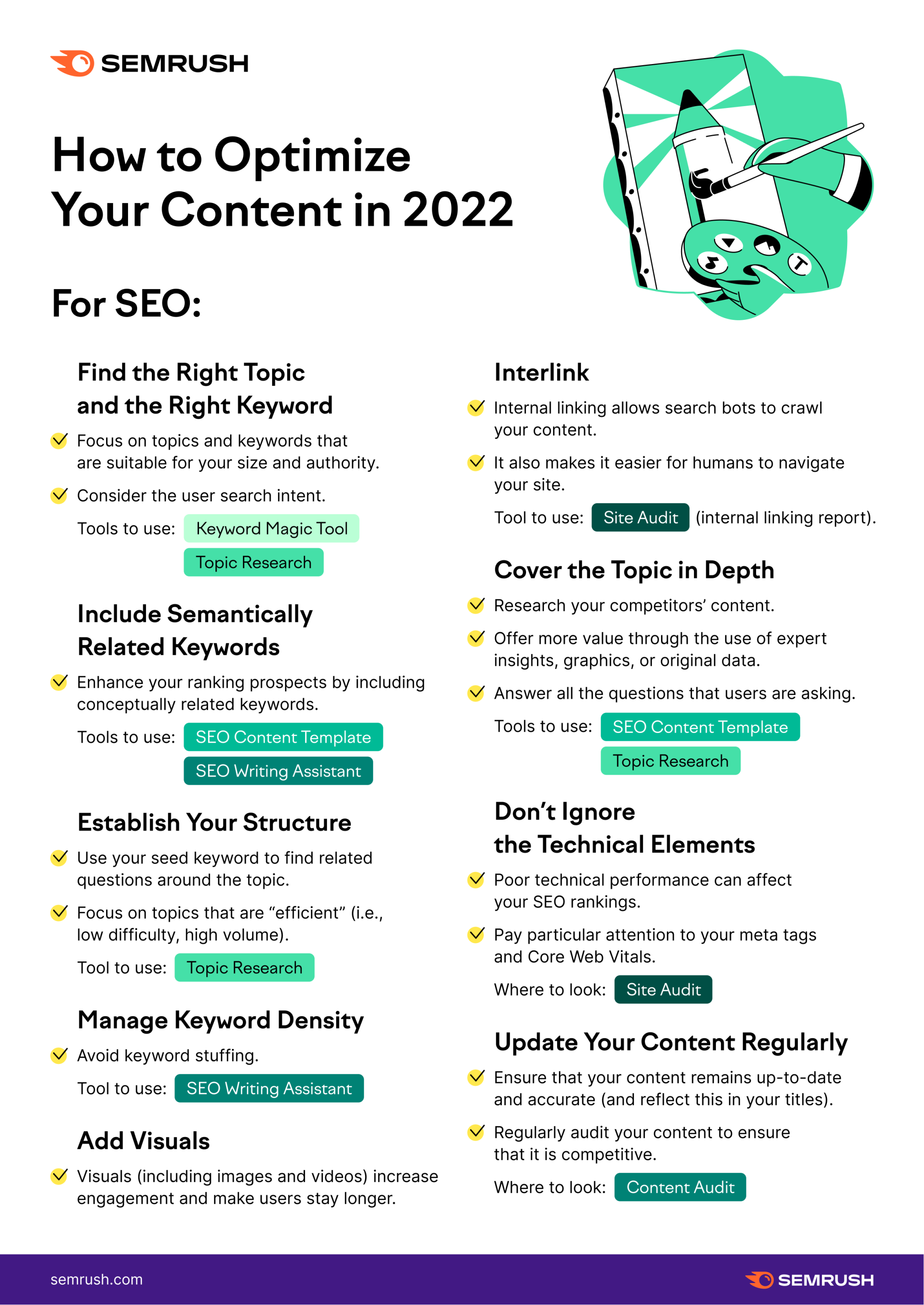 1. Find the Right Topic and the Right Keyword
For instance, if you are a healthy meal delivery service, you might want to start with a 'healthy diet' topic. You can also select the desired geographical location: country, region or city.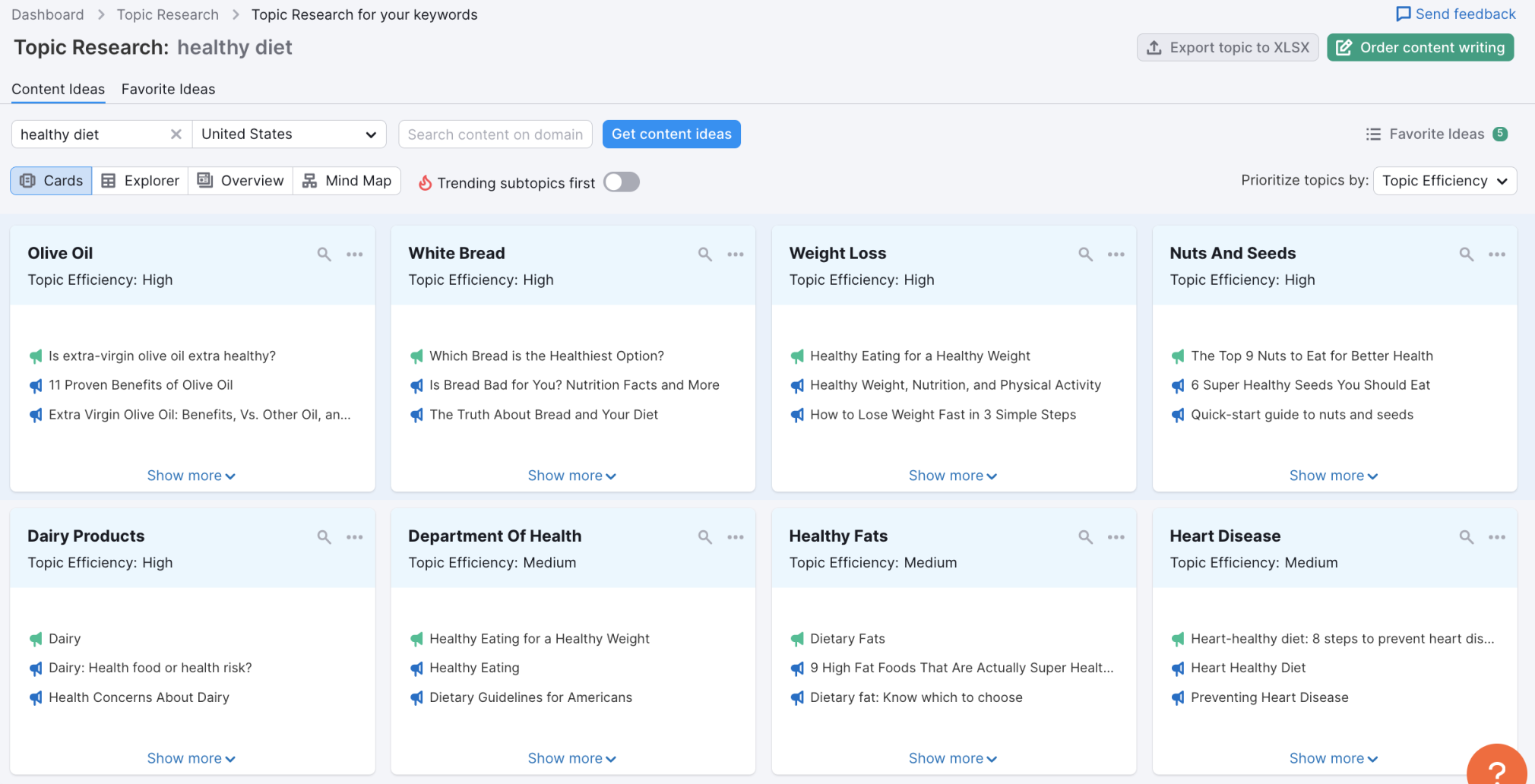 For instance, you can decide to opt for the 'Healthy fats' topic. Click on the card to see the most popular headlines and questions related to this content idea. At the bottom of the card, you will also see a list of related searches.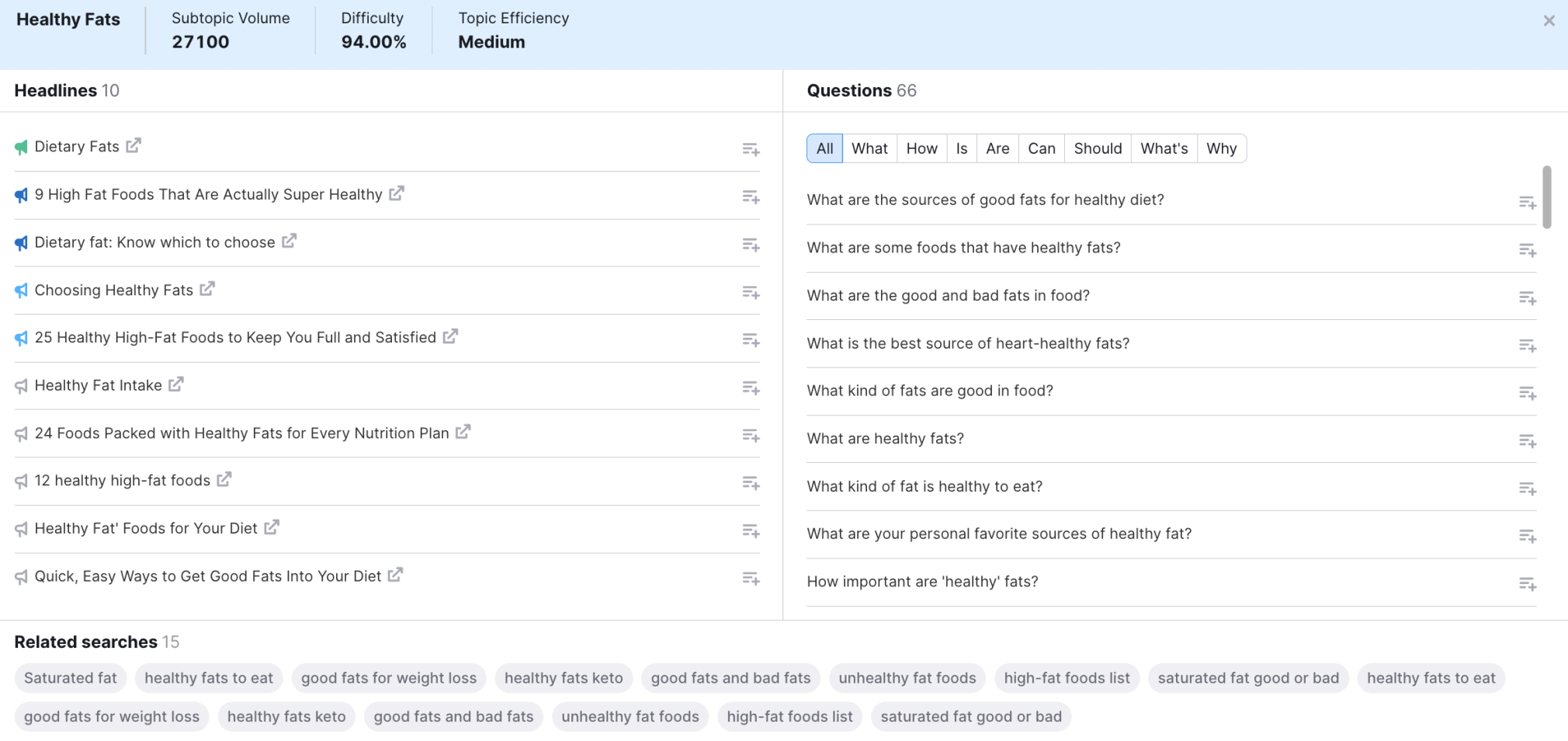 Semrush's Keyword Magic Tool enables you to generate keyword ideas based not only on traffic volume and difficulty but on user intent as well. For instance, you can choose keywords that are informational or transactional.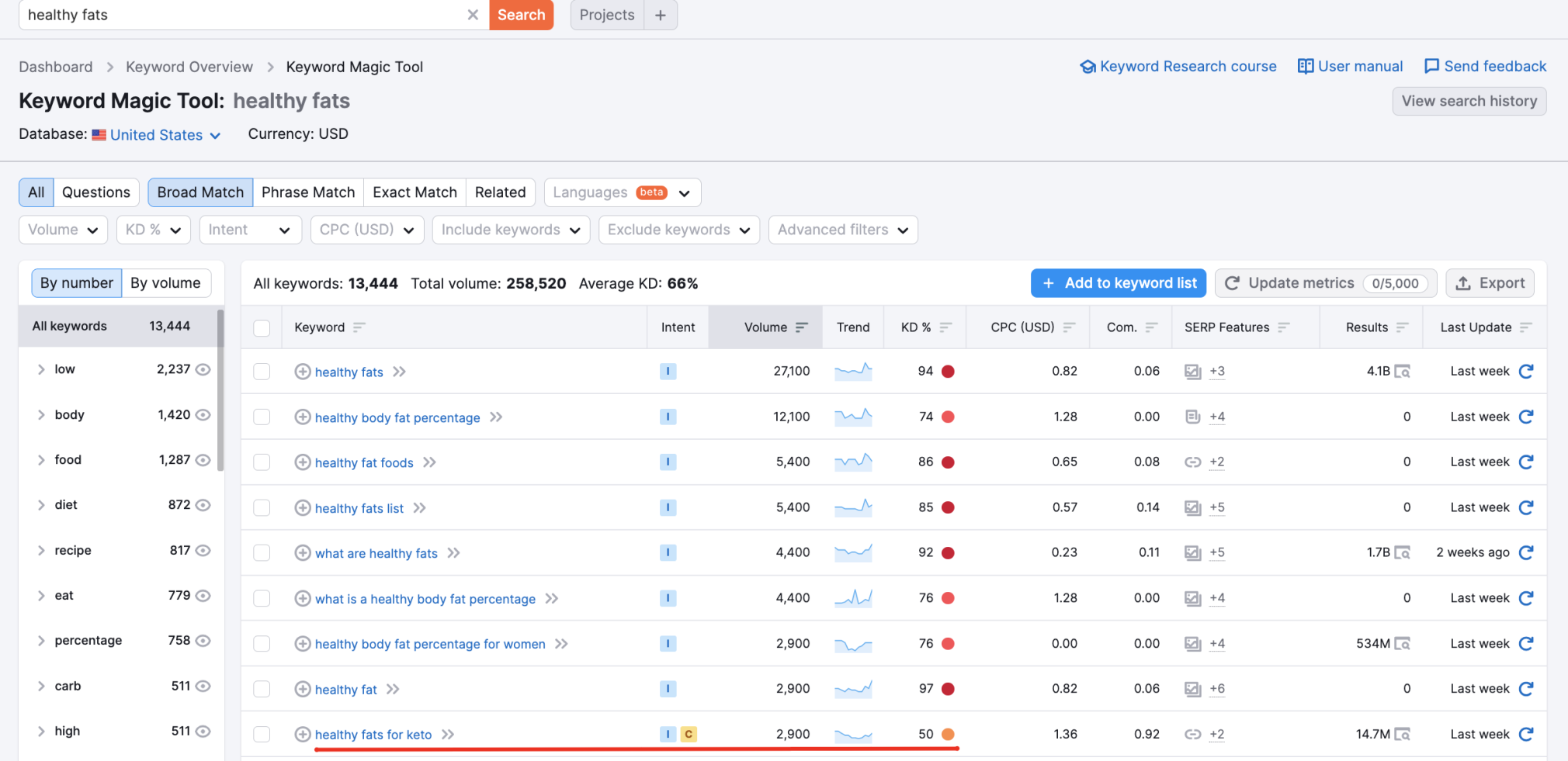 As you can see, many of the related keywords have a high keyword difficulty. If you feel like it won't be a realistic target for your business blog, try to explore further to find more attainable options.
Once you've picked the keyword, click on it and you will be transferred to the Keyword Overview tool. Here you can analyze the core information about it: the intent, keyword variations, related keywords and questions.
It's also a good idea to type your selected keyword in Google to analyze the results that pop up. Do you feel like you can create content that will be better than anything already shared? And do the current search results match what you have in mind for this topic?
Finally, you will end up with a list of keywords that your piece will focus on, which can usually be divided into primary (most important, core keyword) and secondary (supporting and related) keywords.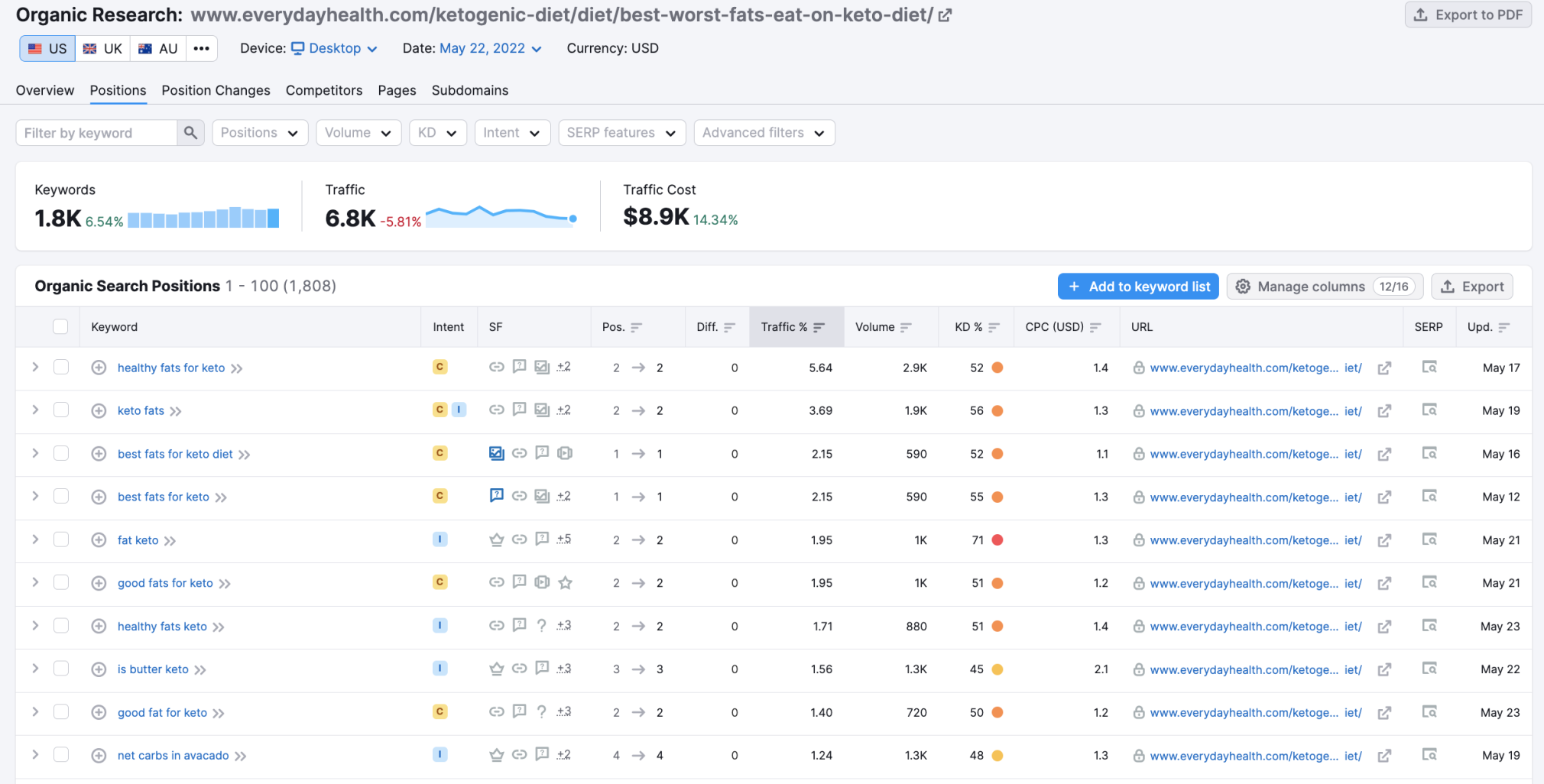 2. Find Semantically Related Keywords
To give yourself the best chance of ranking, include semantically related keywords that are conceptually connected with your target keyword. It helps search engines better understand the topic you are covering. It's important, though, that you don't deviate from the original intent of your article.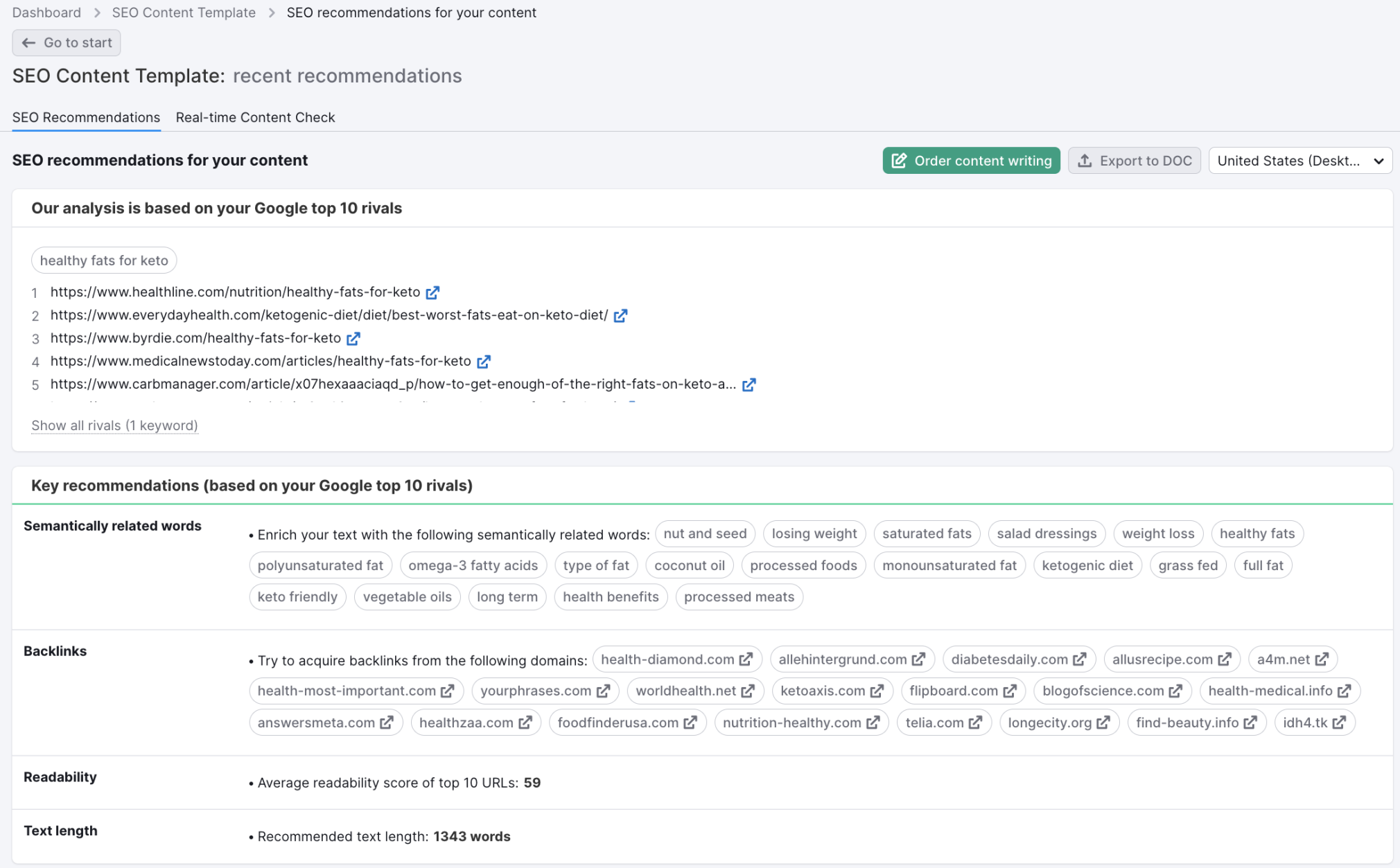 3. Establish Your Structure
Once you have your topic and keywords, outline the structure of your piece and design a logical flow. The related questions you saw in the Topic Research and Keyword Overview tools can assist you with this step. In technical terms, it means mapping out the H tag structure of the page.
To get more creative ideas on what to include in your blog post, or to even plan new related articles you would link in this piece, you can go back to the Topic Research tool and retype your topic.
For example, if you select the 'Mind Map' view, you will see all new subtopics related to 'healthy fats for keto', such as 'keto healthy fat snacks' and 'healthy fats for keto without carbs'.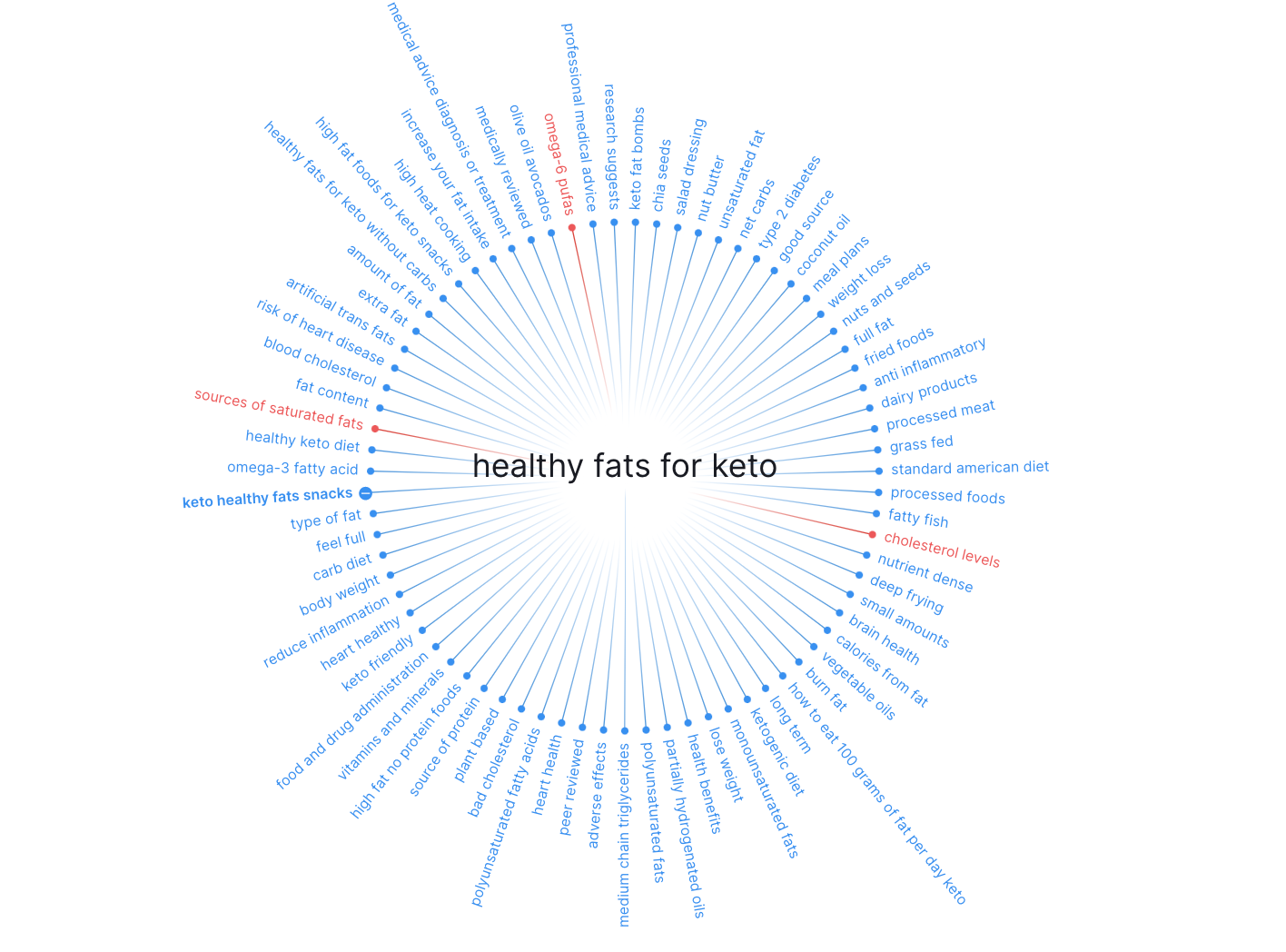 4. Manage Keyword Density
Many SEOs and content marketers will be familiar with the once-prominent practice of keyword stuffing. Although this "tactic" is now long defunct, you still need to pay attention to your keyword density.
What is SEO Copywriting?
If you want to create highly useful content that ranks well in Google and simultaneously funnels paying clients or customers to your online business, you must think about the components of Google's Ranking Algorithm.
SEO copywriting is all about creating useful, compelling, and valuable content that targets specific keywords so that other people will gladly promote it on social media platforms.
This increases the authority and relevance of your content and improves its ranking in Google for the selected keywords. So when you highly recommend something, Google sees it relevant and you will achieve greater SEO content results.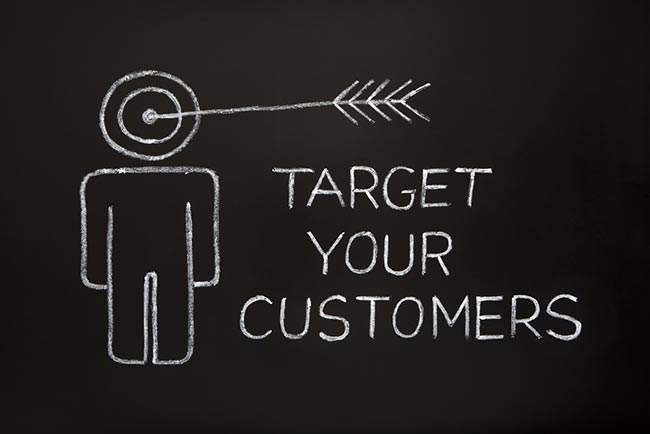 Six Elements of SEO Copywriting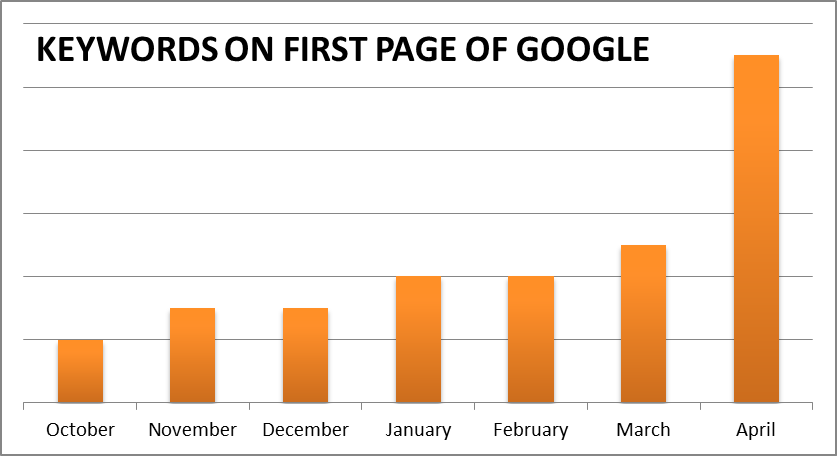 That's because if your content is useful and interesting, but it takes a long time for your page to load fully, your visitors will leave, because their attention span is short. They leave because of a bad user experience.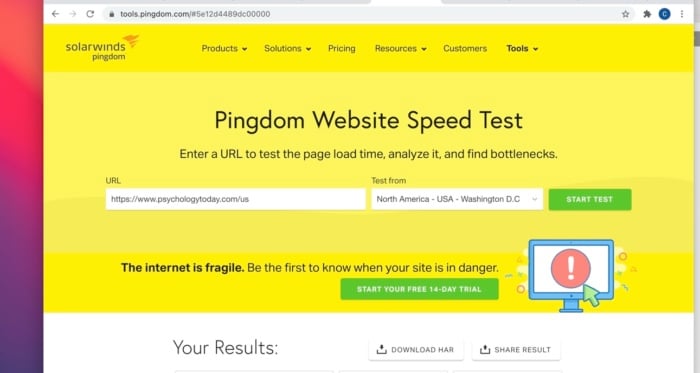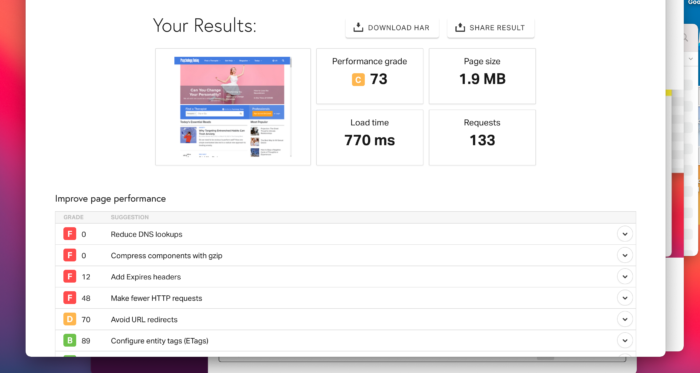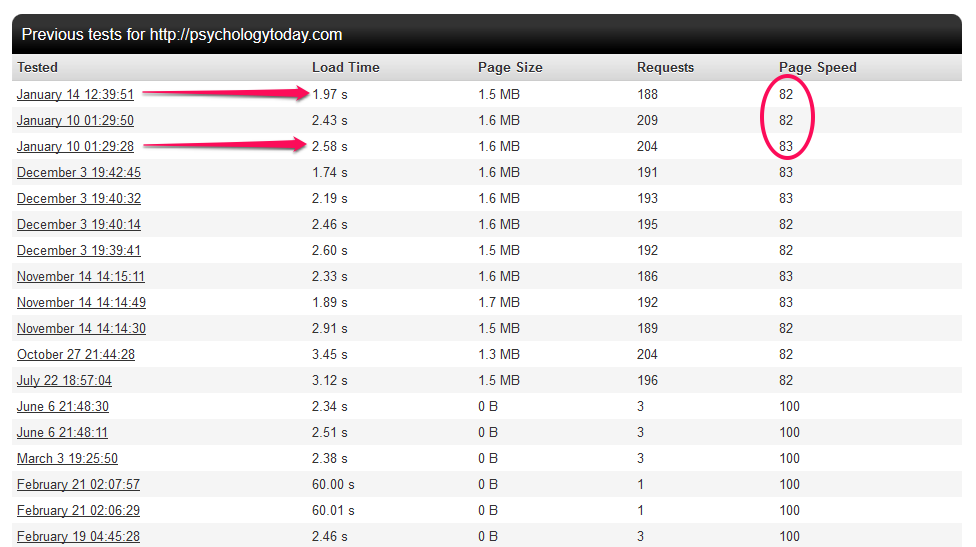 In our example, the history shows that Psychology Toda≥≤≤÷y had a load time of 2.58 seconds on January 10, 2015. The page size was 1.6 MB at the time. Today, the page size has been reduced to 1.5 MB and the load time improved to 770 milliseconds. This is what SEO firms check first and so should you.
This case study reveals how Smashing Magazine experienced an impressive boost in their conversion rate when they cleared their database of all of the clutter that old plugins had created, then merged all of the databases into one.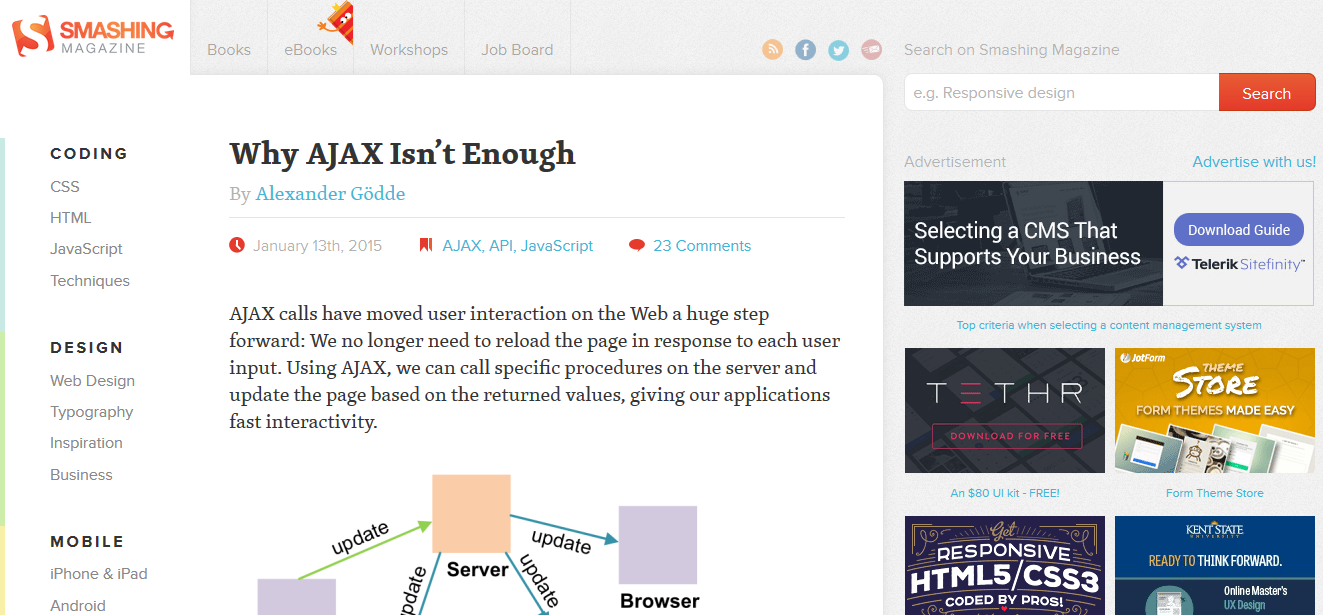 SEO Content Optimization Checklist
There is a lot to think about when it comes to creating SEO content . Use this checklist when publishing your next piece of content to make sure you've got the most essential elements of SEO covered.
1. Research optimal keywords
Use Google Adwords Keyword Planner to discover how various terms and phrases perform in search results and try to use more detailed long-tail key phrases that fit your specific product or service. If the page is not relevant to a human user for their search query intent, they're unlikely to stick around.
2. Use keywords naturally and strategically
Don't repeat a keyword too often just because it's the highest-ranking search term for your audience. You will end up sounding insincere and robotic. Google will also punish that page by pushing it lower down the search results. Instead, try to mix in synonyms and syntactically related phrases to your keywords.
3. Optimize title tags
Your title tags are the first thing people will see when viewing your organic result after a search. Ensure they speak to the topical relevance of the page, use your brand name if possible, and bear in mind that visible character count generally hovers between 45 and 55 characters.
4. Include relevant keywords in the URL
By including keywords and other descriptive wording in your URLs, you will be confirming the association between what the viewer is searching for and how your website can help them. From a backlink acquisition point of view, many links to your site will simply have anchor text that is the URL itself, in which case, those keyword-rich file names can help to boost your rankings. Moz suggests using the following format for your URLs:
5. Optimize your images
The faster a site loads, the less likely human users are to bounce. Load time consequently is an algorithmic factor and affects your website's standing in the search engine results. In many cases, the largest contributor to page load times are images, so having compressed image file sizes is always recommended.
6. Write compelling meta descriptions
Visible meta descriptions are usually 155-160 character snippets used to summarize a webpage's content and are included with the title tags in the search engine results. Optimizing these descriptions to effectively describe your site to viewers and capture their interest is important. While these do not directly impact your rankings, they do have an indirect effect based on human user behavior.
7. Link to related, authority websites
Use authoritative websites as references, and include hyperlinks within the text. This helps Google determine the relevancy and accuracy of your content. You can use nofollow tags if you choose.
8. Internal linking – link to your own content
When possible, reference and link to previous relevant blog posts or site pages using descriptive anchor text. This helps drive new interest to these older blog posts and can contribute to a boost in their rankings. Don't think of your content as a one-time use, but try to leverage it as much as possible.
9. Make it easy to share
According to an article from Statista , the facts say people like to share content, so much so that the amount of links and posts shared is impossible to measure. It shows that people like to share content they relate to or that makes them feel connected to others with similar interests.
Even though people do in fact like to share content, they won't do it if it requires too much effort. If you work on creating a streamlined sharing process for your content, you will be in a better position to have that content shared, which may garner a boost in backlinks with equity.
10. Optimize for mobile
Google now penalizes sites that are not optimized for mobile devices. Instead of creating a mobile site from scratch, consider adapting a responsive design. To check if your site is compliant, click here.
11. Continually work to garner quality backlinks
12. Analyze and track your data
By keeping track of your metrics, you will be able to devise a gap analysis and make data-driven decisions on what is working and what's not on your site to enable strategic and tactical refinements to your SEO and content strategy.
SEO Trends for Now and the Future
Keeping up with the evolving world of SEO is a necessity in driving more traffic to your website. Implementing these changes now while also keeping an eye towards the future is essential to maintaining success.
1. Focus on Mobile Users
The vast majority of searches are performed on mobile devices. Optimizing your website for mobile users has never been more important. Reducing load times, creating an excellent user experience, improving responsiveness, and making it easy to navigate your site are all key aspects to creating a mobile-friendly website.
2. Understanding Searcher's Intent
Google is always refining its algorithm, as it's key to create content that's focused on searcher intent. Businesses need to spend more time addressing the searcher needs instead of only talking about your products or services. Making it easy to find relevant information while optimizing the website to improve its speed is essential to ranking higher.
3. Rise in Zero-Click Searches
Many searches on Google are zero-click searches , which means that the search ends without a click. This often happens due to the prevalence of Featured Snippets for answering questions and Google business listings that provide contact information. The rise in zero-click searches only makes it even more important to focus on keyword research to target specific terms.
4. Artificial Intelligence
Artificial intelligence (AI) will only continue to make a big impact on the SEO industry. Google is already using AI technology to make it easier for users to find information. Additionally, many of the well-known marketing companies are implementing AI-based solutions to gain a better understanding of algorithm changes to further maximize the efficiency of SEO strategies.
5. Creating High-Quality Original Content
Producing high-quality and original content is essential to any SEO marketing strategy. Unique content helps your website to stand out from the masses while also making it easier to connect with your audience. A few different ways you can produce original content include using case studies, white papers, customer testimonials, and more.
Source:
https://www.semrush.com/blog/content-optimization-guide/
https://neilpatel.com/blog/seo-copywriting/
https://www.constant-content.com/content-writing-service/2018/11/seo-content-optimization/